Trans World Entertainment - A State of Mind
In the middle of 2005, Transworld Entertainment couldn't have been in a more difficult spot.
A Slow Death
A lot has changed since the heyday of CDs and tapes. Many investors are well aware of the very public bankruptcy of Blockbuster Video, a video rental chain that went bust with the decline of the CD & DVD industry. It just couldn't compete with new mediums of content delivery like Netflix.... and, of course, illegal downloading. Back in the early 2000s Trans World Entertainment found itself in exactly the same situation. The company had bet big on the CD industry, filling its stores with CDs and DVDs only to feel the sting that comes with a continental technological shift.
When I found the company the bottom had already fallen out on the stock. Investors were hurting badly. From a high of $15 in 2005, the stock had dropped to less than 60 cents per share just over a year before I picked it up. That was a drop of more than 95%. Investors who had held on since 1998 when the stock was trading at $28.51 suffered a much longer and much more painful decline.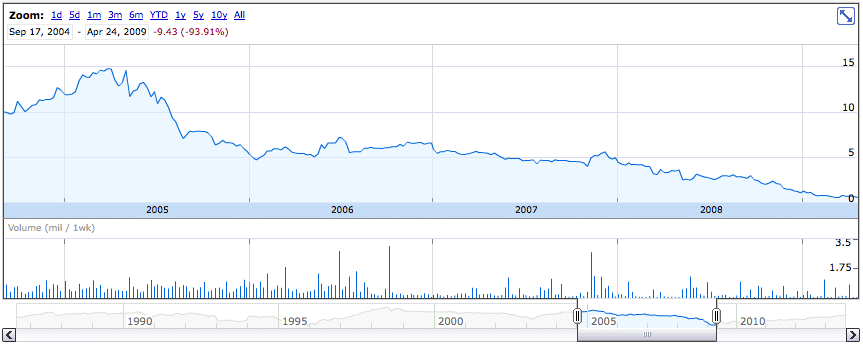 I was a bit late to the party. When I spotted the investment opportunity in 2011 the stock had already advanced nearly 200% from its historic low. At $1.50 per share the stock was still a real bargain, though, trading at just 54% of net current assets. In addition it had an...
Adjusted Market Cap of $64.8M - Still small enough for me.
Unfunded Pension of $8.88 - Which increased the Market Cap to $64.8M.
Current Ratio of 1.99x - Pretty solid for a retail company.
Debt-to-Equity of 17% - Within my 25% cutoff.
Stable Business - Retail is one of the most stable types of businesses.
While the company was selling a little bit of stock year over year, insiders also owned 41% of the company - the current CEO holding the majority of that. I knew that his interests were aligned with mine and that he would be motivated to right his company's brutal downfall. Insider ownership acts somewhat like a catalyst ---much like GTSI's exit from purgatory--- making it much more likely that the stock price will rise in a reasonable amount of time.
A Hand Reaches Up From The Grave
I was right. One way that a money-losing retail chain can curb its losses is to trim the money-losing stores. Within a retail chain there is usually a number of profitable stores, stores that are subsidizing the money-losing locations. If management realizes that some of those money-losing stores aren't likely to regain profitability anytime soon, sometimes it makes sense to close the stores. In almost all cases, closing the money losing locations leads to an overall higher level of profitability. If they cut all of the money losing stores then the company is left with just profitable locations and a much more healthy operation.
Fill your portfolio full of high potential, low risk, net net stocks. Click Here.
Trans World was also positioning away from CDs and DVDs. It was changing its merchandizing towards novelty items and toys which, given their current set up, was at least not a terrible idea. Management was busily trying to right the company's circumstances.
From my position it was fairly clear where things were heading. For the previous two or three years the company's financial results had been improving substantially. I decided to put a large chunk of money down on the company at a price just above $1.50 per share.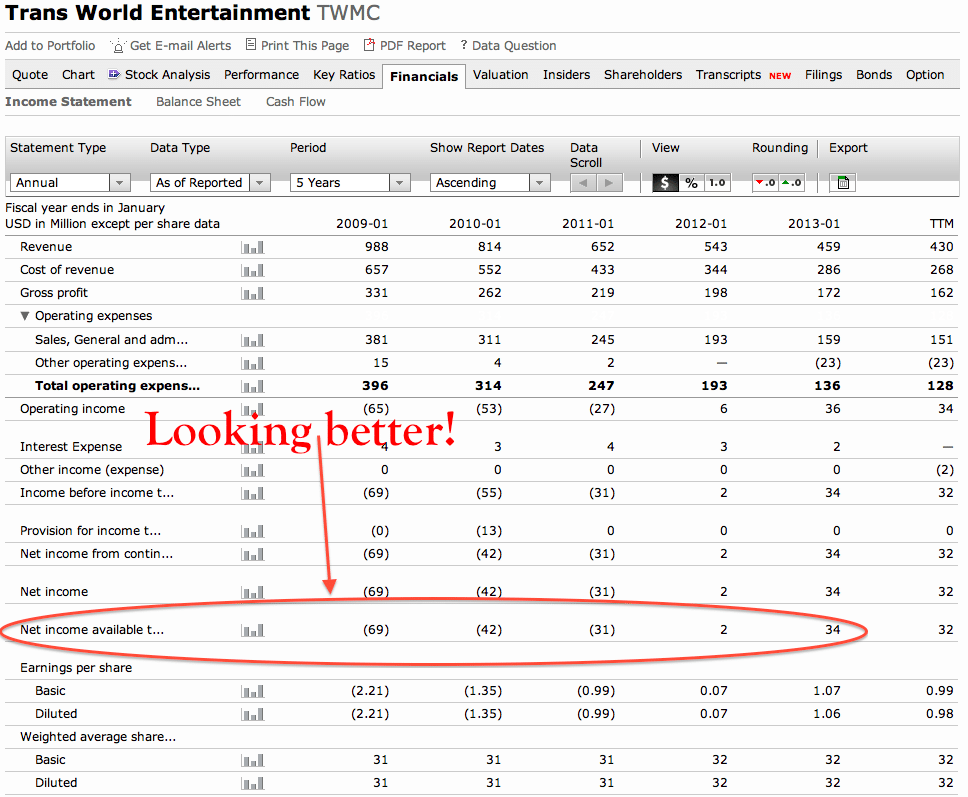 A Full Recovery?
Management stayed on course with store closures until one quarter they actually felt confident enough to open a few new stores. That was an amazingly positive sign. Apparently other people agreed with me and bid the price of the stock up. Just over a year after I bought it the stock had nearly doubled so I cashed out.
In retrospect, that was a bit of a mistake. Patience is key when you're investing in net net stocks. Often times the ride can be rough and it doesn't seem like the company or the price will ever recover. This is where personal character comes into play. The good thing is that most net net stocks work out --- roughly 80% of them. If you put together a good portfolio then you can see amazing returns. At Net Net Hunter, members have access to a package of academic studies that you can use to refine your investing strategy.
I sold a bit too soon. Two years later the stock was trading for just over $5 per share. If I had found the company when it was trading at 60 cents the investment would have netted me at least a 700% return in about 3 years.
Supercharge Your Returns
Finding stocks like that is not easy. At Net Net Hunter we currently have over 300 net net stocks to pick through and a community forum where you can get advice and stock suggestions from some of the net net community's best investors.
Don't waste anymore time. Take the next step towards supercharged returns through international net net stocks. Click here to sign up for membership now!